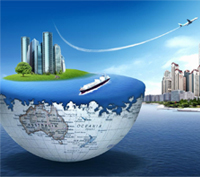 GLOBAL TRANS LOGISTICS CO,.LIMITED is an A-class freight forwarder approved by ministry of commerce of the people's republic of China. We are focus to the transportation from the shipment from Asia to Latin America, Europe. We will offer a full range of services on land, air, ocean and multimodel transportation, warehousing, distribution, insurance, and Customs clearance. Our service is not only for the normal dry container, it's also including the particular container such as open top container, reefer container, RO/RO and dangerous goods.
We promise that we will take care of your shipment sincerely, let's grow up together.
OUR EXPECTATION:Make you satisfied with the lowest cost.
OUR MISSION: Devote to the harmonious development for the international trade.
OUR VALUE:Honesty is the best policy; people - oriented.
SERVICE:
AIR REIGHT: on the basic of the mainly air ports in China (Shenzhen, Guangzhou, Shanghai, HK), we have had the good cooperation with the most airline, we are ready to provide you the best service and the plenty space any time. We would like to provide you the most suitable logistics suggestion for your shipment according to your request.
OCEAN FREIGHT: We have contracted with the several mainly shipping lines for the most competitive freight, we promise to provide the best freight and service for your shipment. Depend on the world wide agent, it's easy for us to provide you the service doo to door, and the flexible payment way (prepaid or collect). Our service is also including the haulage, custom clearance, and insurance etc.
Our advantage:
You will get the best service with the lowest cost: all the persons in our team must be trained strictly at least one year. We will make the most suitable plan according to your request, it can avoid to waste your money and time.
CONSOLIDATE SERVICE:
When your goods is not enough for a full container to make your transportation cost rise, when you buy from several suppliers, and when you are confused to make the goods from several suppliers into one container, let's help you to solve it. We will provide you the professional consolidation service including delivery the goods from different suppliers to the warehouse, consolidate the goods into the container, prepare the export document, custom clearance and transportation etc.
EXPRESS SERVICE: We have the contract with DHL, UPS, FEDEX, and the price we are getting is more cheaper than their official price.